About Valerie Larabee Coaching
Valerie focuses on results.
As the saying goes, "The definition of insanity is doing the same thing over and over again and expecting a different result."
Valerie focuses on the new actions that will create the new results you want in your life.
In her work, Valerie notes that the majority of pain points people encounter fit into the following categories:
Time
Managing People
Relationships (Love & Family)
Money
Fitness & Health (Wellbeing)
Finding Purpose
Valerie works with clients one-on-one and also with groups through Results-Based Business Training (RBBT) and in customized workshops.  Through these programs she provides the accountability and momentum to achieve high-impact results and manifest the destiny you desire.
Goals (Accountability + Momentum) = SUCCESS
In the Coach's Corner we provide free resources where we focus on managing or eliminating the major pain points impacting most people's lives.
One of Valerie's favorite metaphors uses a bus to represent you.  She explains that you have a number of personalities on your bus and your challenge is to have the right version of you in the driver's seat at the right time.  Many of us have a business persona, or a spouse persona, maybe a parent persona and fun-loving persona – these are different versions of you that we put on depending on the situation we're in.  Every one of those personas is valuable and useful, but they serve us best when we put the right one in control for the given situation.  Your intimacy persona will work wonderfully on date night, but could wreak havoc in the board room.  Much of our work is the practice of identifying your personas and how to implement practices that convert your bus into a highly efficient military assault vehicle!
It is important to remember that these are practices – we're developing a skill that will one day be second nature, but much like our infant selves, our first steps are going to be uncertain and progress will seem slow, but with time the skill becomes second nature.
About Valerie A. Larabee
Valerie Larabee is a certified coach who, for over three decades, has successfully coached clients in the key distinctions necessary for an extraordinary business and personal life.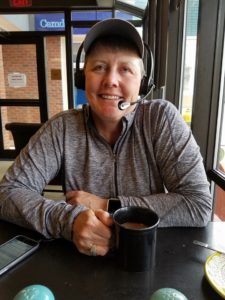 Valerie stays informed about current trends and practices and is constantly enrolled in courses to expand her skills.  She draws from many different influences, including Anthony Robbins, Robbins Madanes, Steve Linder (Strategic Brain), Judith Glaser (Conversational Intelligence), Stephen Covey and Landmark Education.  As a former non-profit leader and former military officer, she has traveled the world and experienced leadership and service from all vantage points.   Her systematic, organized coaching style helps her clients achieve results while eliminating overwhelm. It is her intuitive ability, life experience and training that makes Valerie a valued and sought after coach.  Valerie has the capacity to cater to a broad spectrum of clients and has an uncanny ability to relate to others from all walks of life.  
Valerie is also an accomplished photographer and an avid cyclist and reader.  In her spare time, she enjoys traveling to new places as well as visiting friends and family.  She is married, loves animals and being in nature.  She lives her purpose, being a blessing in the lives of everyone she meets.
​Training & Certifications
Results Coach, Robbins Research International, Inc.
Anthony Robbins Coaching Academy
Robbins-Madanes Core 100 Certification
Robbins – Madanes Advanced Relationship Course
Conversational Intelligence
Anthony Robbins Unleash The Power Within
Anthony Robbins Life Mastery
Anthony Robbins Date With Destiny
Anthony Robbins Wealth Mastery
Anthony Robbins Business Mastery​
Certified NLP Practitioner – Strategic Brain
Lifebook Master Class
Landmark Forum
Landmark Advanced Course
Landmark Self-Expression and Leadership Program
Landmark Wisdom Course
---